'Who Wouldn't Claim A Globally Successful Son'?, Dele Momodu Mocks CNN For Addressing Davido Nigerian – American Artist Over Huge Donation To Charity (pics)
It is no longer news that Nigeria born and globally recognized singer David Adeleke, popularly known as Davido has agreed to splash a whooping two hundred and fifty (250) million naira to orphanage homes across Nigeria. This came after the singer via his notable friends and business associates was able to raise two hundred (200) million naira after soliciting for funds via the internet. He however added another fifty (50) million naira to make the entire amount two hundred and fifty (250) million naira. Of which he has promised to donate to orphanage homes across Nigeria with a committee already on ground to set the ball rolling.
This great gesture did not only draw media attention to davido, it has also increase the widespread respect his peers and contemporaries have for him. To this end, international media outlet Cable Network News (CNN) has also reported this recent happenings. According to information available on their site, Davido was referred to as "Nigerian – American".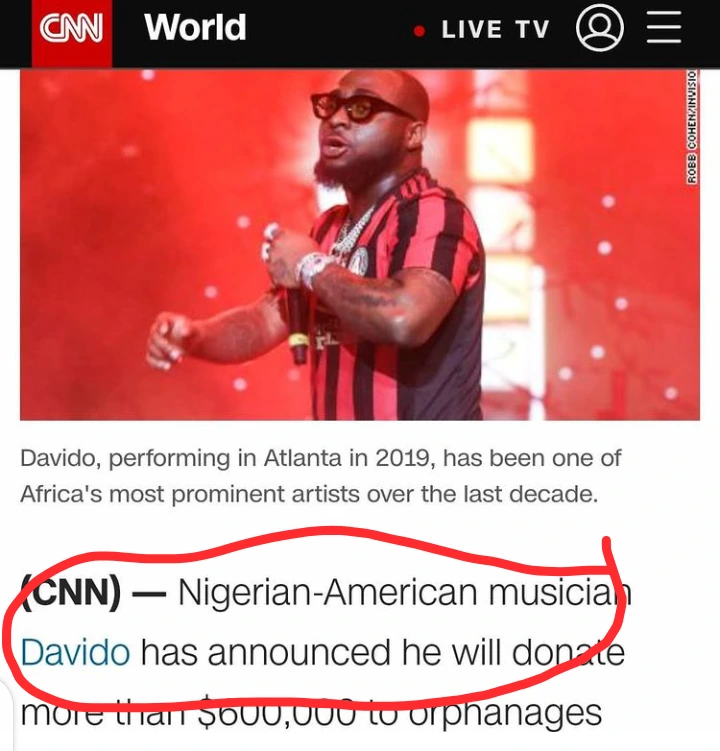 This means of identifying Davido has caused media mogul Dele Momodu, the owner and Chief Executive Officer of Ovation Magazine to react. In a reaction, Dele acknowledges that all of a sudden the CNN remembers Davido is not just a Nigerian. He however admits that it is true everyone would like to identify with a globally successful son.